From out of the ashes.

How CT Darnell helped Home Central build - and then rebuild - one of their largest locations.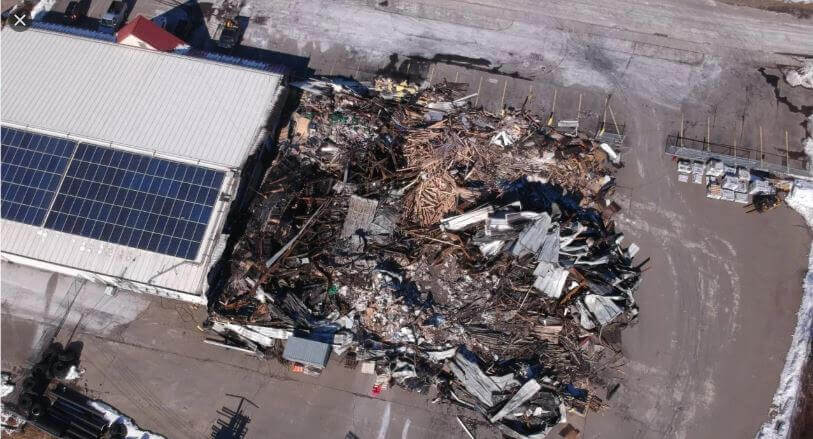 Home Central - Vestal, NY
"They totally re-mapped the merchandise to better maximize the space. Our top sellers were able to fit in the main warehouse aisle, making it easy for trucks to access them right away instead of having to go to multiple warehouses."
In 2017, Home Central tapped CT Darnell and Sunbelt Rack to transform their longstanding lumberyard in Candor, New York into the ideal 18,000 square foot lumber and building materials facility (9,000 square foot retail store and 9,000 square foot warehouse). The project was a success, but that's not where the story ends.
When their Vestal, New York location suddenly burned down in February 2020, Home Central knew exactly who to call.
According to owner and president Ben Whittemore, "our drive-thru burned down and there was significant smoke and water damage to the retail space – so we had to pretty much start over."
Enter Clint Darnell, VP and Co-Owner of CT-Darnell and Sunbelt Rack. "When Ben told me what happened to their Vestal location, it didn't take me long to get our team back in action and on the ground.
"I had priced some local builders for the job – but nobody knows LBM – or Home Central – like CT Darnell. We had originally learned about CT Darnell through LBM Advantage. Plus, we had worked with Clint and his team on a number of projects in the past and they just know how everything is supposed to flow…. and most importantly, I trust them," explained Ben.

The second time around allowed for some smart enhancements to the Vestal location. "They totally re-mapped the merchandise to better maximize the space", said Ben. "Our top sellers were able to fit in the main warehouse aisle- making it easy for trucks to access them right away instead of having to go to multiple warehouses."
According to Clint, "we totally replaced the covered drive-thru, added a firewall between the warehouse and retail store, and expanded the footprint for more retail space and improved dry goods storage. And of course, we integrated all new state-of-the-art racking systems throughout the facility."
Weather is always a challenge during the winter in central New York, and this year proved to be particularly tough. Amidst the construction, during one 24-hour period, 40 inches of snow fell. "It wasn't easy," said Ben, "but my General Manager and Clint have a great working relationship and were able to anticipate and push through things quickly."
In fact, what would normally take other companies months to complete, CT Darnell and Sunbelt Rack did in two weeks. According to Ben, "We're thrilled with our Vestal facility – it's got much more product diversity and is a terrific resource for professionals and do-it-yourselfers alike."